Alpha City Walk, Karnal
Alphacorp presents to you an excellent commercial destination, the Alpha City Walk from Alpha International City, Karnal. Prime and forthcoming business property in Karnal, sector 29, which in future will turn into a prominent shopping and business destination
The SCO Center is strategically located in front of the new bus terminal, at NH-7, Karnal. An apt location for business with a striking layout adds prominence to the latest retail platform that offers great business potential to business owners and retailers alike. Its unrivalled location and proximity to the other important locations of Karnal adds to the significance of the commercial project for customers as well as travellers.
The business and Alpha City Walk at Karnal is strategically located to capture the natural footfall. A shopping and business arcade of this parallel is a first in Karnal and has been designed to keep alive the idea of a conventional commercial centre. Not only that, but this complex will also present a great opportunity to boost the business of the potential buyer of smaller commercial booths.
Alpha Corp's retail development ventures have been landmark properties at Amritsar and Ahmedabad locations for their feel and fine structure that provides the buyer with a wholesome shopping experience. Presently, with our latest venture in Karnal, Alpha Corp intends to set new business and retail destination for the people of Haryana.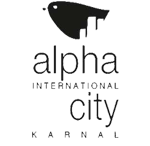 Brochure
location

Preview